The 7TH session of the Economy Board which is of great significance in the first semester of this year due to the presentation of the Grants Allocation Report in accordance with the town's programs for small and medium enterprises in 2018, was held at the City Council's premises. 3 programs for supporting entrepreneurship and business development of the City of Kutina were presented and adopted along with the detailed presentation of the Report.
City's mayor Zlatko Babić, Head of Administrative Department for the Economy , Entrepreneurship and Development Hrvoje Krmelić, Property-legal matters Counsellor Tihana Radošević, Marijan Balaško, Head of the Economy Board and the Board members Karlo Kabelka, Ante Knezović and Ivica Ružička were present at the session.
The Grants Allocation Report in accordance with the City's programs in 2018 for allocating support to small and medium enterprises in Kutina for last year, has received most attention.
Last year, the City of Kutina invested 3.081.604,26 kuna to support entrepreneurship, family-farm managing, agriculture and tourism which makes a far greater amount of assets than in the previous years. In 2018 1.033.376,70 kuna was invested to support small enterprises, 520 000 kuna was used for subsidizing business loans rates and 119.227,56 kuna for business benefits in industrial zones. 820 000 was used to support investments that primarily included co-financing of RA Mrav, a development agency which indirectly helps enterprises and family-farm managing in Kutina, and 589 000 was used to co-finance agriculture.
The City of Kutina has invested 462 000 kuna to co-finance employment / self-employment whereas 162 000 was added to the planned 300 000 kuna by amending budget. Owing to this Program 45 people were newly employed in Kutina last year.
Even though 300 000 kuna has been provided for allocating grants to enterprises and craftsmanships as support for gear and new technologies procurement and for entrepreneurial competitiveness, 146 000 kuna has been added by amending budget to the 300 000 kuna planned due to extra appliances received, thus making a total of 437.302,33 kuna used to create support to everyone who applied in Grant Allocation Program. 48 users has benefited from 437.302,00 kuna support for gear procurement and a total of realized investments is 1.884.343,00 kuna.
6 applicants used the 71 000 kuna financial support in the Grants Allocation Program for tourism investment projects in 2018 and 2 newly-established companies benefited from 75 000 kuna support.
The City of Kutina subsidizes the entrepreneurs' rate for the purposes of business development and competitiveness reinforcement together with the Sisačko-moslavačka County as project operator. Loan fund of the project is 100 000 000 kuna. Entrepreneurs are able to use these loan funds of the Program to buy, build or develop business facilities, buy equipment or certain parts of equipment, buy land for the purpose of business activities, refinance the existing unfavourable (non-subsidized) loans for the same or similar purposes. Kutina subsidizes 1% of the contracted interest rate and Sisačko-moslavačka County subsidizes 2%.
29 entrepreneurs use the contracted credit line whereas the City of Kutina subsidizes 520 000 kuna at a year's basis.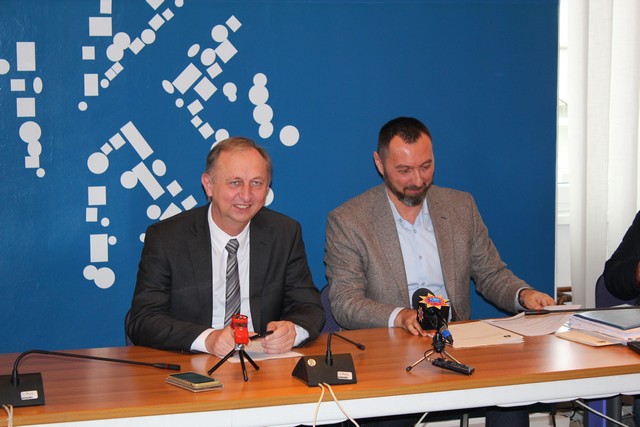 ''We are extremely pleased by the fact that about 30 new craftsmanships have been opened in Kutina since we endeavour in helping new and existing craftsmen in Kutina through these economic measures. The new Grant Allocation Program has been adopted at the Economy Board session for the newly employed, gear procurement and tourism. The Program has been published on the official City's web-page and everyone who is interested and meets with the requirements covered by the Program can apply. We hope that the co-financing this year will be at the same level as in the previous 2018. The Economy Board have expressed their contentment with the complete payoff to our beneficiaries. A total of 3.081.604,26 kuna that has been paid off through these 5 measures is an extremely high amount, but also a good investment into business development'', mayor Zlatko Babić has stated.
The City of Kutina shall continue programs of supporting entrepeneurship and shall take into account entrepreneurs' suggestions and propositions so incentive schemes would be more acceptable and efficient in supporting business development.