At the beginning of May this year, the City of Kutina issued a bidding for a lease of business premises in the Business Incubator in Kutina for small and medium enterprises. 29 bidders successfully qualified for the bidding terms.
On this occasion, a formal handover of Business Incubator premises to business lessees was held, where 29 small and medium enterprises would develop their businesses along with RA Mrav Agency.
By project realisation Business Incubator Kutina was reconstructed, equipped and adapted to the needs of small and medium enterprises in Kutina.
6,5 million kuna was invested into adaptation and equipment of the Incubator and 1,8 million kuna was invested into it by the City of Kutina as project operator.
Beside services offered by the Business Incubator like lease of various business premises, lease of conference rooms and office equipment, etc., a space for business accelerator (business and sources of financing counselling, market exploration, etc.) has been provided as well.
The aim of this project is the development and improvement of business infrastructure in Kutina area and contribution to national, regional and local strategic commitment in terms of small and medium enterprises development in a financially sustainable way.
"We are extremely pleased that we have enclosed this phase of project realisation and signed agreements with 29 beneficiaries and the agreement with RA Mrav Agency, PUNK activity operator. Among the 29 beneficiaries there are 15 small entrepreneurs whose business experience is of barely 3 years duration. We are pleased to give these young entrepreneurs a chance for a successful beginning", mayor Zlatko Babić stated and further added that the City of Kutina promotes positive developments of entrepreneurship. The mayor also reminded of the problem of property-legal relations of the PUNK building that has been resolved recently in a way that the Ministry of State Property has donated 50% of its ownership of the building to the City of Kutina, which resulted in continuing with the Business Incubator activity. "Our idea is to adapt the upstairs floor of the building to put it in function of PUNK. One of the premises would be intended for the purpose of the Centre of Excellence. In this way we shall enable our young entrepreneurs of business development and put emphasis on all our possibilities both in Business and Industrial Logistics Zone in this way. After they successfully develop their businesses they would move into the Zones, in time. Through their entrepreneurial measures we shall stimulate employment in the City of Kutina", mayor Zlatko Babić stated.
Tomislav Kojundžić, RA Mrav Agency executive, told the young entrepreneurs that RA Mrav Agency, as PUNK activity manager, is at their disposal for counselling and introduced them to the services of the Business Incubator; those services being IT gear equipped business premises with office furniture, conference room lease, document copying, printing and scanning services, coworking space lease, breadboard room lease, skype room usage, accelerator services usage and cafeteria usage.
Head of the Economy Department Hrvoje Krmelić stated that the City of Kutina invests sufficient assets into business infrastructure in Kutina area beginning from business zones, especially Industrial-Logistic Zone which would be put in function soon. "With all the activities that the City of Kutina is doing in terms of development and business support in Kutina area, there are other measures to help our entrepreneurs through providing employment support and providing equipment for small and medium enterprises. So our entrepreneurs outside the Incubator would have the opportunity to develop and expand their activities in Kutina area", Head Hrvoje Krmelić stated. As far as other actions taken by the City of Kutina are concerned through EU funds financing, a 220 million kuna worth projects are being prepared to operate. "One of the largest projects in the next period is the construction of the instructure in Kutina called the Moslavina Agglomeration Project Worth almost 500 million kuna", Head Krmelić stated and concluded that the City of Kutina successfully implements projects, the proof of that being the fact that there have been almost none of the penalisations for operating projects financed by the EU funds.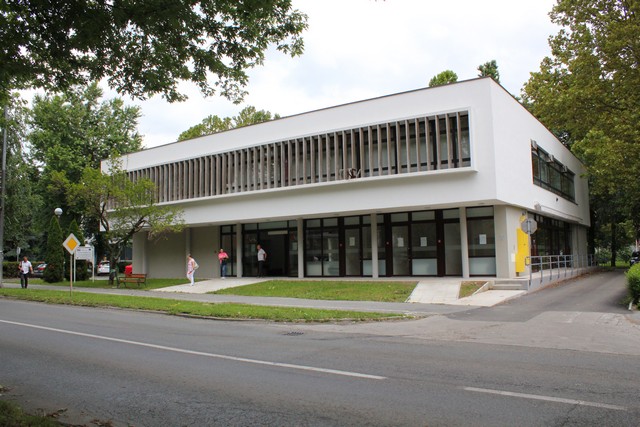 This project realisation will take 3 years. After that period Business Incubator will be free at the disposal to all future users who would want to develop their special ideas and thus develop entrepreneurship in Kutina area.
By today official handover of business premises to young start-ups in the Business Incubator, a quality equipped space has been provided for future activity and development, and it has become a symbol of new market economy and up-to-date young business people.